Concerts 2007 - 2016
2016
31st of January 2016 - E-Werk Freiburg - Libeskind Cycle
more info
22nd of October 2016 - Music School Concert Hall Heidenheim - Klangzeit erleben
27th of October 2016 - E-Werk Freiburg - Zeit und Gegenzeit
more info
29th of October 2016 - Todtnau, Haus des Gastes - Konzert von Vögeln und Regenbögen
more info
6th of December 2016 - E-Werk Freiburg - Cross Mapping
more info
2015
28th of April 2015 - SurPlus Kreisbahnen

13th of June 2015 - "Dian Red Kechil International Young Composers Residency" Singapore

21st of August 2015 - Summer Academy Schloss Solitude

29th of September 2015 - Solitude in E-Werk

15th of December 2015 - Trio SurPlus
2014
Project Mishpatim

Viola vs. Percussion

Trio SurPlus

sur scène
2013
New Music Concerts Toronto

SurPlus goes Asia

Summer Academy Solitude

SurPlus School Concert

Portrait Oboe

SurPlus Illuminates
2012
SurPlus macht Schule 5

Violin Portrait

mehrk!ang discovery

IKF Freiburg

Film Concert

Pan Music Festival

20th Anniversary SurPlus
2011
School Concert "SurPlus macht Schule", 28th of February 2011, Wentzinger Gymnasium, Freiburg

Festival "Musica Viva", 24th & 25th of March 2011, Quito, Ecuador

Harvard Fromm Concerts, 1st & 2nd of April 2011, Boston, MA, USA

Portrait Concert Alexander Sigman, 5th of June 2011, Schloss Solitude, Stuttgart

EWerk "Portrait" Clarinet, 14th of June 2011, EWerk Freiburg

Summer Academy Solitude, August 2011, Schloss Solitude, Stuttgart

"1plus9", 8th of October 2011, EWerk Freiburg
2010
School concert "SurPlus macht Schule", 14th of January 2010, EWerk Freiburg

Hommage a James Avery, 28th of February 2010, EWerk Freiburg

June in Buffalo, 1st & 2nd of June 2010, Buffalo, NY, USA

SurPlus in Buffalo II, 20th of June 2010, EWerk Freiburg

Sommerfest Akademie Solitude, 3rd of July 2010, Schloss Solitude, Stuttgart

Lee Sang Guen Festival, 6th & 7th of November 2010, Jinju, Korea

EWerk "Portrait" Cello, 12th of November 2010, Galerie Schneider, Freiburg

mehrklang Freiburg
2009
Freiburg, 25th of January 2009
E-Werk Freiburg/Begegnungen mit György Ligeti
Works by Sidney Corbett

Stanford (USA), 24th - 26th of February 2009
Stanford University
Works by Michael Berger, Juan-Cristóbal Cerrillo, Jason Federmeyer, Marisol Jiménez, Michelle Lou, Patricia Martínez, Mauricio Rodriguez, Sebastian Semper

Speyer, 14th of June 2009
Kontrapunkte Speyer
Works by Alban Berg, Arnold Schönberg, Anton Webern und Igor Stravinsky

Freiburg, 17th of June 2009
Paulussaal: SurPlus macht Schule
Works by Christian Wolff und Iannis Xenakis

Freiburg, 19th - 21st June 2009
mehr!klang Festival

Freiburg, 1st of July 2009
Stanford im E-Werk
Works by Michelle Lou, Mauricio Rodriguez, Michael Berger, Juan Cristóbal Cerillo und Jason Federmeyer

Stuttgart, 22nd - 23rd of August 2009
4. Sommerakademie Schloss Solitude
Works by the participants

Freiburg, 9th of December 2009
E-Werk I "SurPlus goes Solitude"
Works by Christopher Moore, Ben Hackbarth, Alistair Zaldua, Joe Lake, Heather Frasch and Timothy McCormack
2008
Freiburg, 31st of October 2008
E-Werk Freiburg
Works by Matthew Greenbaum, Wieland Hoban, Ursula Mamlok, Stefan Wolpe

Freiburg, 14th of June 2008
mehr!klang festival Freiburg 2008
Works by Andrew Cole, Charles Dodge, Tsai-yun Huang, Cort Lippe, Jeffrey Stadelman, Thomas Stoll

Freiburg, 12th of June 2008
mehr!klang festival Freiburg 2008
Works by Bernhard Lang, Karlheinz Stockhausen, James Tenney

Buffalo (USA), 2nd - 6th of June 2008
Festival June in Buffalo
Works by G. Douglas Barrett, Andrew Cole, Charles Dodge, Davið Brynjar Franzson, Tsai-yun Huang, A. Young Kim, Cort Lippe, Roberto Morales, Thomas Stoll, Dan VanHassel, Jonathan Wilkes

Freiburg, 21st of February 2008
E-Werk Freiburg
Works by Theodor W. Adorno, Alban Berg, Claude Debussy, Mauricio Kagel, Igor Strawinsky, Karol Szymanowski, Anton Webern

Stanford, 11th - 15th of February 2008
Stanford University (USA)
Works by Juan-Cristóbal Cerrillo, Kristian Ireland, Marisol Jiménez, Patricia Martínez, Mauricio Rodriguez, Sebastian Semper
2007
Freiburg, 20th of December 2007
E-Werk Freiburg, 15 Jahre SurPlus/15 Years SurPlus
Works by composers from Ecuador:
Eduardo Flores Abad, Juan Campoverde Quezada, Lucho Enriquez, Milton Estévez, Pablo Freire, Mesias Maiguashca, Arturo Rodas

Freiburg, 26th of November 2007
SWR Schlossbergsaal
in cooperation with the Experimentalstudio für akustische Kunst e.V.
Works by Mark André, Jonathan Harvey und Luigi Nono

Karlsruhe, 24th of November 2007
ZKM Festival »Giga-Hertz-Preis«
in cooperation with the Experimentalstudio für akustische Kunst e.V.
Works by Mark André, Jonathan Harvey und Luigi Nono

Freiburg, 23rd of November 2007
E-Werk Freiburg, KIK - Kunst im Kopf 07
KIK-Kunst im Kopf 07 takes place on the 23./24. November 2007 in the E-Werk, and will deal with artistic and neuroscientific aspects of language - rhythm - sound.
Works by Thomas Hummel und John Cage

Leuven, 28th of October 2007
Transit Festival 2007
Works by Thomas Bruttger, James Clarke, Gerald Eckert, Wieland Hoban, Claus-Steffen Mahnkopf, Robin De Raaff

Braunschweig, 20th of September 2007
Städtische Museen Braunschweig
Works by Dieter Mack, Michael Reudenbach, Wolfgang Rihm, Cornelius Schwehr, Stefan Wolpe, Charles Wuorinen, Iannis Xenakis

Linz, 8th of September 2007
Ars Electronica
in cooperation with the Experimentalstudio für akustische Kunst e.V.
Works by Luigi Nono

Stuttgart, 18th - 19th of August 2007
3. Sommerakademie Schloss Solitude
Works by Mark Barden, Annesley Black, Carolyn Chen, Ann Cleare, Wolf Edwards, Marios Joannou Elia, Paul Feyertag, Ashley Rose Fure, Martin Iddon, Kenn Kumpf, Yu Kuwabara, Josiah Oberholtzer, Ian Power, Jeffrey Treviño, Charlie Wilmoth, Yvonne Wu

Beijing, 28th of May - 1st of June 2007
Beijing Modern Music Festival 2007
Works by Vinko Globokar, Sven-Ingo Koch, Liza Lim, Bernfried Pröve, Zhang Shua, Lin
Wang, Helmut Zapf

München, 20th of March 2007
Musica Viva 2006/2007
farben der frühe for 7 pianos by Mathias Spahlinger

Freiburg, 6th of March 2007
E-Werk "Aufbruch in die Moderne - Musik um 1910"
Works by Claude Debussy, Charles Ives, Charles Koechlin, Alexander Skrjabin, Igor Strawinsky, Anton Webern
Libeskind-Cycle
Sunday, 31st of January 2016 | E-WERK Freiburg

Program: Claus Steffen Mahnkopf (*1962) - Hommage à Daniel Libeskind, Vol. I – III (2002-2012)

Complete performance with subsequent CD production

Musicians:
Martina Roth flute
Christian Kemper oboe
Nicola Miorada clarinet
Stefan Häussler violin
Bodo Friedrich viola
Beverley Ellis cello
Ensemble SurPlus - Zeit und Gegenzeit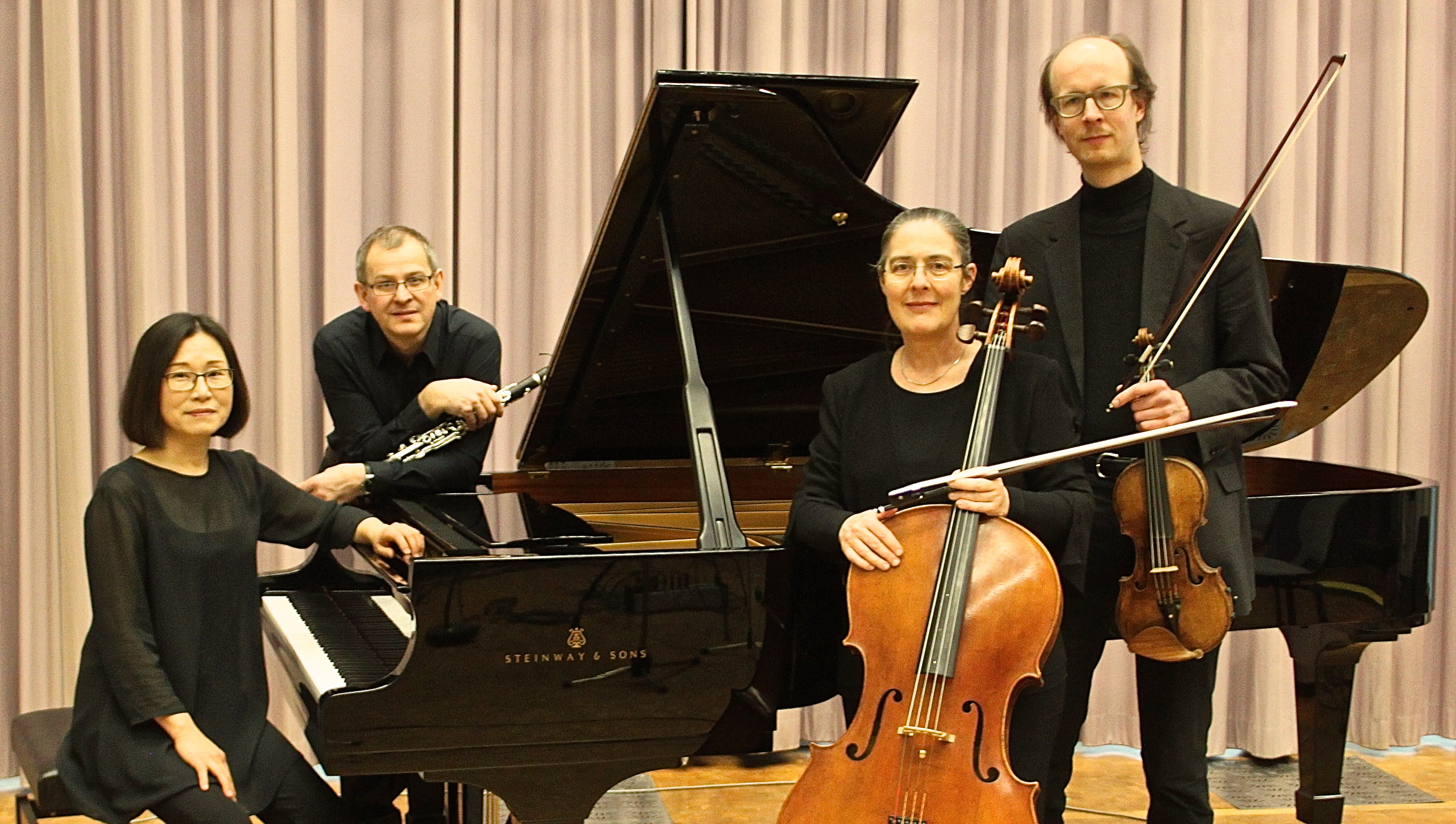 Olivier Messiaen (1908-1992)
"Quatuor pour la fin du temps" (1940/41) für Klarinette, Violine, Violoncello und Klavier
Mario Lavista (*1943)
"Tres danzas seculares" (1994) für Violoncello und Klavier
Keiko Harada (*1963)
"Abyss" (1992-95) für Klarinette, Violine und Violoncello
Samir Odeh-Tamimi (*1970)
"Shattíla" (2004/2005) für Klarinette, Violine, Violoncello und Klavier
Das Programm kombiniert Olivier Messiaens "Quartett auf das Ende der Zeit" mit Werken jüngerer KomponistInnen, von denen sich verschiedenartigste Verbindungslinien zu diesem Schlüsselwerk der Musik des 20. Jahrhunderts ziehen lassen. Messiaens in deutscher Kriegsgefangenschaft entstandenes und vor 75 Jahren uraufgeführtes Werk umkreist in acht monumentalen Sätzen Motive der biblischen Apokalypse. Die dabei in einem zentralen Satz dargestellte "Schlucht der Vögel" sowie die in Messiaens Musik allgegenwärtigen Vogelstimmen finden ihr Echo in Keiko Haradas "Abyss" (Abgrund) und in Mario Lavistas auf Balzgesängen beruhenden "Tres danzas seculares". Der Palästinenser Samir Odeh-Tamimi schafft mit seiner Komposition "Shattíla" ein Gegengewicht zur bei Messiaen theologisch verstandenen Endzeit, indem er mit dem Massaker von Shattila während des libanesischen Bürgerkriegs eine sehr reale Katastrophe thematisiert. Zugleich schließt sich damit der Bogen zu den besonderen Entstehungsbedingungen von Messiaens epochalem Werk. Nicht zuletzt spiegeln sich in der Herkunft der jüngeren KomponistInnen aus Mexiko, dem Nahen und dem Fernen Osten aber auch die weitgespannten Einflüsse aus anderen Kulturen, die Messiaens Musik vielfach prägen. Vor dem Konzert findet eine Werkeinführung statt.
Musiker:
Erich Wagner – Klarinette
Stefan Häussler – Violine
Beverley Ellis – Cello
Eun Ju Kim – Klavier

Konzert von Vögeln und Regenbögen
Todtnau, Haus des Gastes 29.10.2016, 20h
In einem aussergewöhnlichen Kammerkonzert, wird der aus Todtnau- Brandenberg stammende Klarinettist, Erich Wagner, mit dem Ensemble SurPlus aus Freiburg in Todtnau in der Aula im Haus des Gastes zu hören sein.
Im Mittelpunkt des Programms steht das "Quartett für das Ende der Zeit" von Olivier Messiaen.
Das 1941 im Kriegsgefangenenlager bei Görlitz komponierte Werk ist eines der klangschönsten und farbigsten Werke der Kammermusik. Messiaen thematisierte die Offenbarung des Johannes, die Apokalypse als Ende der Zeit lautmalerisch mit Klängen, die an Christall und Regentropfen erinnern. Vogelgesänge werden in Melodien umgesetzt und mit wunderbaren Farbakkorden unterlegt, gespielt von einer Klarinette, Violine, Cello und Klavier.
Im ersten Teil des Konzertes erklingt die "Premiere Rhapsodie" von Claude Debussy für Klarinette und Klavier und die , durch Vogelgesänge inspirierten 3 Tänze "Danzas sekulares" des Mexikanischen Komponisten Mario Lavista für Cello und Klavier.
Erich Wagner lebt seit über 20 Jahren in Berlin und ist als Solobassklarinettist in der Anhaltischen Philharmonie in Dessau engagiert. Neben seinem Hauptberuf als Orchestermusiker spielt er in kleineren kammermusikalischen Formationen wie dem Ensemble SurPlus, in diesem Konzert mit der Pianistin Eun Ju Kim , der Cellistin Beverley Ellis und dem Geiger Stefan Häussler.
Dienstag 6.12.2016 E-Werk Freiburg
19Uhr Einführung
20Uhr Konzert
Christian Kemper – Oboe
Elmar Schrammel – Klavier
Olaf Tzschoppe - Schlagzeug
Wen Liu Off the Track (2015)
*1988 für Oboe, Klavier und Schlagzeug
Peter Ivan Edwards Neues Werk (2016) UA
*1973 für Oboe, Klavier und Schlagzeug
Jörg Birkenkötter Neues Werk (2015/16) UA
*1963 für Oboe, Klavier und Schlagzeug
Zsigmond Szathmáry The Scream (Der Schrei) (2016) UA
*1939 für Englischhorn, Klavier und Schlagzeug
Byung-moo Lee bent triple (2016) UA
*1972 für Oboe, Klavier und Schlagzeug
Anthony Vine lumin- (2016) UA
*1988 für Oboe, Klavier und Schlagzeug
"'cross mapping': zwei Landkarten, die verschieden sind, so aufeinander legen, dass sich notwendig Irritationen ergeben. […] Mit einer Straßenkarte von Groß-London den Harz durchwandern."
Diese ungewöhnliche Idee von Alexander Kluge gehört zu den gedanklichen Ausgangspunkten des neuen Werks, das Jörg Birkenkötter für das Trio SurPlus komponiert. Musikalisch beschreibt sie die Überlagerung, Verquickung und Durchdringung ganz unabhängiger und heterogener Schichten, die sich zu neuartigen und überraschenden Mustern zusammenfügen.
Was für die Vielschichtigkeit des einzelnen Werkes gilt, charakterisiert auch die besondere Situation dieses Programms, das nahezu vollständig aus Uraufführungen besteht: es werden ganz unterschiedliche kompositorische Areale durchwandert, für die je eigene Karten existieren, deren Eigenheiten aber bewusst oder unbewusst auch die Wahrnehmung der anderen Stücke beeinflussen: cross mapping.
Manche der Kartendetails kommen überraschend zur Deckung und lassen Korrespondenzen und Querverbindungen entstehen: Byung-moo Lee (Südkorea) stiftet rätselhafte Beziehungen zwischen scheinbar unzusammenhängenden musikalischen Figuren, die erst aus einer bestimmten Perspektive erkennbar werden. Peter Ivan Edwards (Singapur) organisiert seine Figuren als symbiotische Wesen in einem imaginären musikalischen Theater. In beiden Fällen wird auf ein Verständnis mit Hilfe von Perspektivwechseln gezielt: cross mapping. Zsigmond Szathmáry (Ungarn) betrachtet ein berühmtes Bild von Edvard Munch gleichsam "mit den Ohren": cross mapping. Auch bei Anthony Vine (USA) spielt die Analogie von Hör- und Sehsinn eine Rolle, wenn er die Idee des Melodischen im Sinne eines fragilen, prismatisch gebrochenen Lichtstrahls neu zu fassen versucht. Das Melos eines (utopischen?) Gesangs ist schließlich auch das Ziel des Werks von Jörg Birkenkötter, das hinter vielfältigen Irritationen und durch verschiedenste Formen musikalischen cross mappings sichtbar wird.
Das Programm mit Werken von KomponistInnen aus sechs Ländern und drei Generationen wird eingeleitet durch die europäische Erstaufführung von "Off the Track" von Wen Liu (China) – einem Stück, das sich – wie der Titel andeutet – auf noch unkartographiertem musikalischem Terrain bewegt.